As a full-time sales funnel builder, a big part of what I do is go into people's systems to set up their automations and workflows. The email platform they've chosen is crucial to the process.
At first I thought it didn't matter which email provider they were using, but then I went into one VIP day ready to set up an email automation and found out that the level of Mailchimp she was using didn't allow for it.
That, quite frankly, shocked me.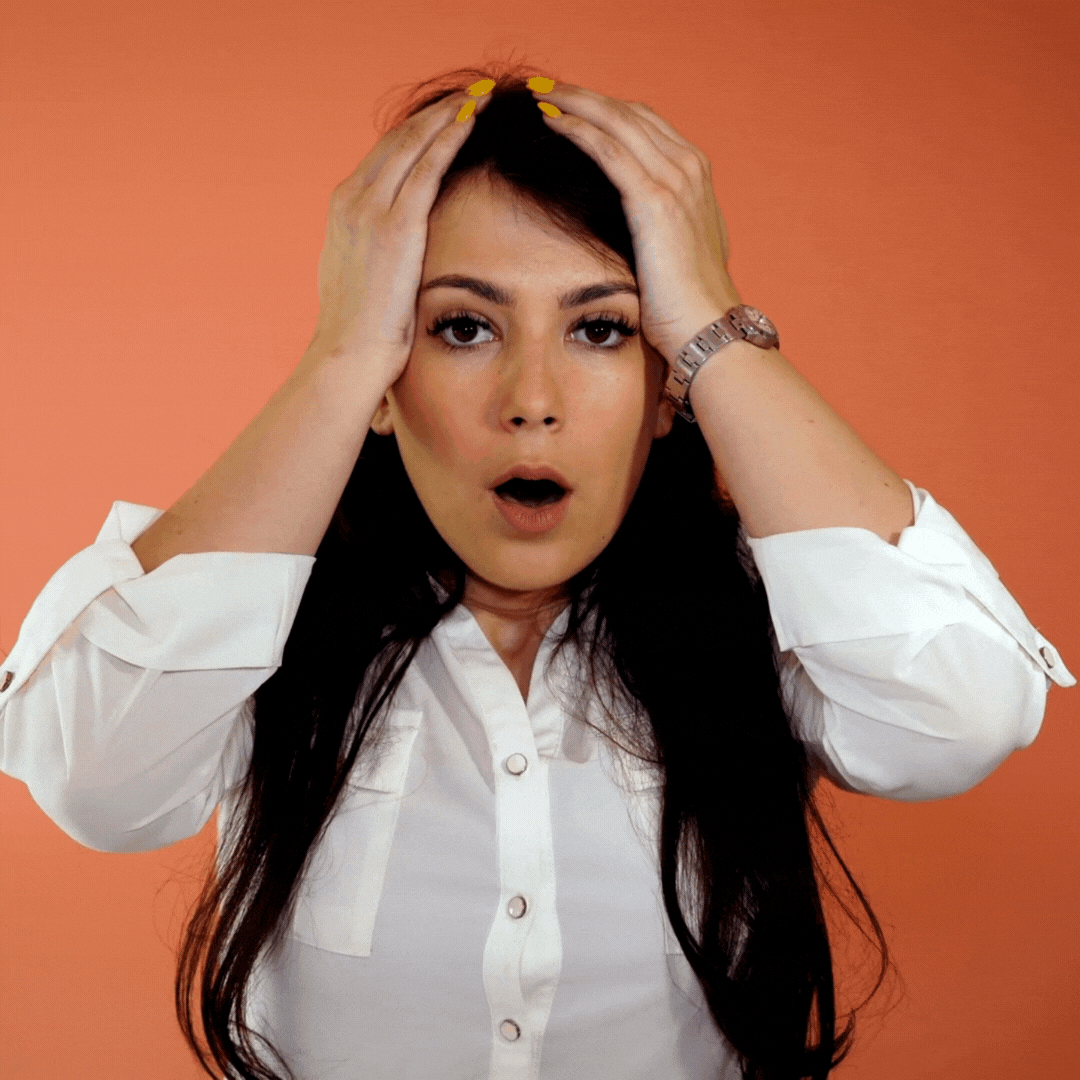 Email automation functionality is a must!
To be fair we were able to set up an automatic welcome email but after that we couldn't send a sequence. The welcome sequence of a sales funnel is a big part of what makes it a funnel.
When I build someone's sales funnel it has the freebie offered for an email address, a lead fills out the opt-in form, they are redirected to a thank you page with more value and they get a series of emails over the next few days that slowly introduces them to more about the business and how they can help. The final email shows them how they can take the next step to work with the business.
Not being able to welcome people onto your list is going to hamper building trust with your new leads. If you ask me, it's a disaster!
What Do I Mean By Email Platform?
Let me back up for a moment and define some terms. There's a difference between your personal email system and your email platform. We're not talking about your Gmail, Outlook, etc. This is the system you use for building your business email list to send out newsletters, announcements, and marketing.
There's a ton of them out there. I find that most people start with Mailchimp. Mailchimp has done a good job of making themselves well known as the easy starter CRM (client relationship manager). But after discovering that my client couldn't do an automation sequence with the level of Mailchimp she had, I decided to dig into finding which email platform was the best for my clients.
You can also watch a video breakdown of my research:
Finding Out Which Email Marketing Systems Have Automations (And How Much It Costs)
It was time for me to do some of my own research and compare a pile of different email platforms to see which ones provide email marketing automation and at what price.
Most of them change price based on how many contacts you have on your list, though not all. In the chart below I tried to compare all of them on their tier that allows for around 1,000 - 1,500 contacts. But when you're choosing which email providor to sign up with, consider the growth you are expecting for your business. You don't want to end up feeling limited!
I think Mailchimp has done something rather sneaky. In the first breakdown of their tiers it says automation is included at the $30/mo level but when I went to look at more details I saw that is for a single step. So that allows for a welcome email and no other automation. To get an actual sequence you need the next tier up, which for 1,500 contacts is $60/mo. For up to 500 contacts it is $20, but again I think you will outgrow that quickly. And on the free level you can't even schedule your emails, you can only send manually.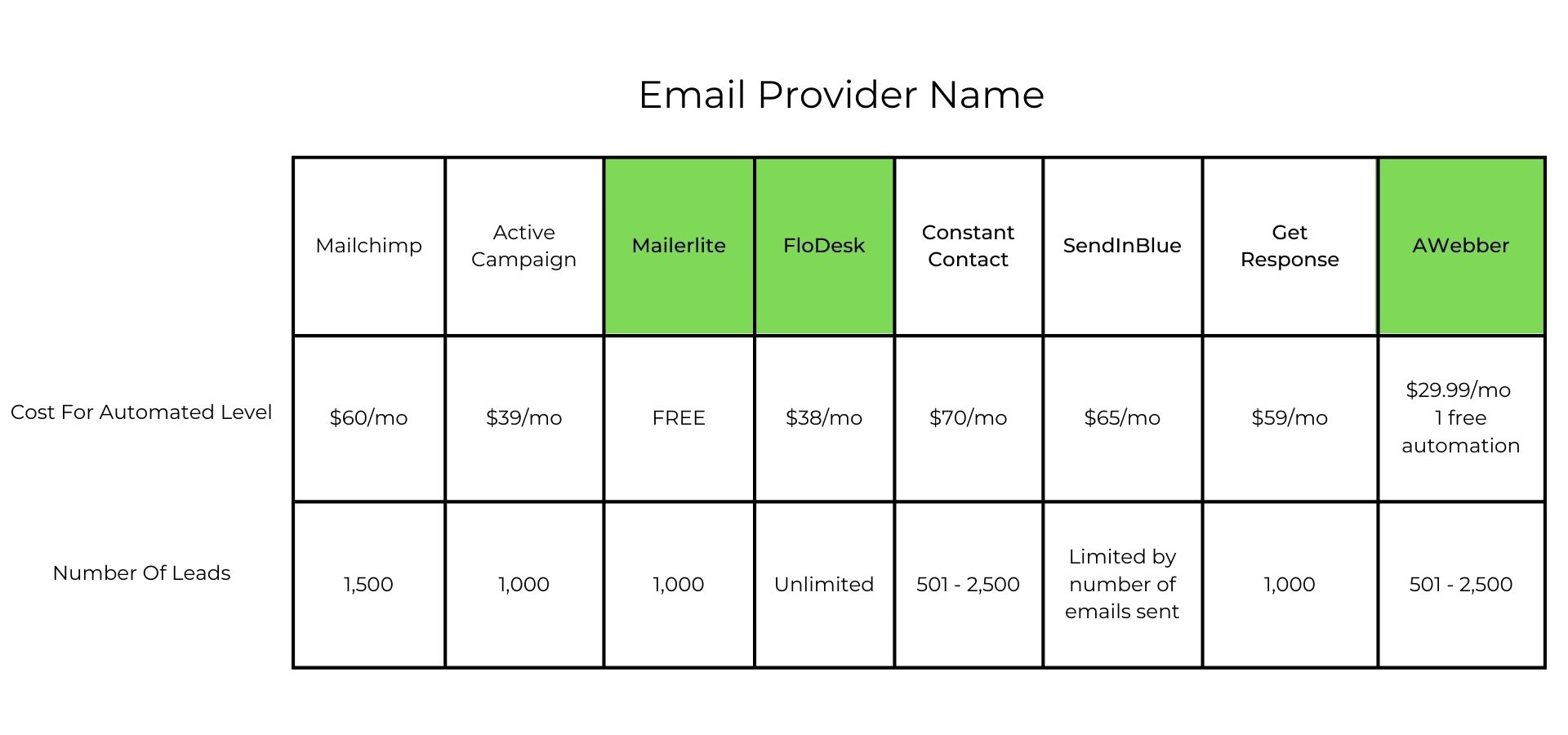 UPDATE: I just found out that Constant Contact doesn't have the ability to redirect to a thank you page after someone submits a form, so that will also ruin a funnel and makes it far less useable. Though users have been asking for this feature since 2017, they have no plan to add it. So I cannot recommend Constant Contact either.
---
So looking at the numbers I found on these email platforms' websites, there are three that stand out as the best and I highlighted those in green. (Note: the other platforms probably have other good features that people may want/need. I'm looking purely at ability to set up a sales funnel!)
With Mailerlite you can do email automations for free when your list is under 1,000 leads. That gives you some room to grow and optimize your automations before you outgrow the free level. They say that email automation is available on the free level but for certain "advanced features" you may need the one that starts at $9/mo. It isn't clear what those features are.

Flodesk has a different way of opperating. They don't do tiers and levels at all. You get unlimited contacts and can do automations with their one email marketing rate of $38/month.

Finally, Awebber has a free tier for under 500 contacts and it allows for one automation at that level. When you get past 500 leads you'll move to the next tier and have unlimited email automations for $30/mo up to 2,500 leads.
I double-checked with their customer support that the one automation is a complete sequence and not just a single email like Mailchimp. So on the free level you can do a full welcome sequence.
It Might Be More Cost Effective To Choose None Of These
Now let's take a moment to consider something. I use an all-in-one platform that includes email marketing automations, segmentation, and tagging but also has website hosting, calendar booking system, affiliate program, course platform, quiz and survey functions, and much more.
By the time you're paying $40 - $60 a month for just email, it's worth considering using an all-in-one. Kartra has a $99/mo tier that covers 2,500 contacts on your list and has all the other things I just mentioned.
Right now I am using one called Clixlo, which is related to GoHighLevel (GHL). It has various promotions going on so you can check and see if they have any great deals happening here.
Some of the links in this post are affiliate links meaning if you decide to use the systems I'm recommending I get a small commission. As you can see I've tried to include all the unbiased information you need to make the best decision for your business!