What is the very best sales funnel software? Well, everyone you ask is probably going to give you a different answer (and they'll be very loud about why the one they like is the best sales funnel builder software ever). But the truth is, they're all pretty good and which one is best is going to depend a lot on what you need it to do.
An all-in-one marketing platform is often created because the founder wanted particular features together and didn't find it so they created their own. Each one has a mix of different features that are prioritized but none of them have truely unique features.
So today I'm going to go over a whole pile of all-in-one funnel building software tools
And show their key features, their differences, their pricing plans, which have a free trial or free plan, which are most cost effective based on what you need, etc.
Important note: the conversion rates of your funnels and pages don't depend on which platform you're using. That all comes down to design and set up. The only time your platform might effect your conversion rate is if the load time on your pages is slow. What drives conversions the most is nailing your ideal target audience and no matter what marketing efforts you are making, getting that right should always be your first step.
You might be tempted to look at free trials and free tiers of a bunch of different platforms to start out your business with the lowest expenses but there's a few issues with that. One is that your systems will get crazy complicated very fast. Another is that those different pieces often don't communicate well together and things will be breaking down all the time, costing you time and energy as well as money.
And supririsngly it often saves money to combine the important features together (the crucial essential features are website hosting, email automation, and an opt-in form).
At the end I'll share with you an all-in-one platform that is robust, well respected,
and more affordable than most single-use tools!
You'll have one login and you can do everything you want to with your digital marketing right there. It might not be the best fit for everyone, and I'll share the weaknesses too, but for the vast majority of my audience I know it's going to be the best funnel builder software!
Some platforms that are primarily one thing masqurade as all-in-ones.
Because of this you'll hear people say that they prefer multiple softwares so they have the best one for each function. There's nothing wrong with doing it that way but it get expensive if you're buying the top of the line for each different function and they don't always comunicate well together. A true all-in-one tool is going to do all the functions well, though they each have their weaknesses.
Here are some popular tools that get recommended as all-in-ones but aren't really:
ConvertKit - This is an email marketing platform with some very crude bare-bones landing pages for your opt-ins. It's much better paired with a website hosting system like Wordpress

Squarespace - This is primarily a website hosting platform that has begun to offer email automation. However, it isn't as robust with email as other tools. I think this is a good choice if you are doing e-commerce.

Mailchimp - I mention this one because it has long been the most popular email marketing starter platform and it is no longer a good choice even for beginners. It is over-priced, the free level doesn't let you do even the most basic things, and I cannot recommend this for anyone anymore.

Flodesk - This is an email-centric platform that is just starting to offer a payments platform called Flodesk Checkout. I don't know much about it but it is brand new and I think it will be a while before it is robust enough to use as a funnel builder. Flodesk is known for its beautiful emails and flat-rate pricing but by the time you pay for both email and checkout it more expensive than my fav all-in-one that does far more things with a proven track record.

LeadPages - This one is a website hosting-centric platform. You can make pages and they have an interesting function to create high-converting landing pages. It rates you as you add elements and you watch your score go up and down. It drives me a bit bonkers, though, because common "best practices" are not always the best choice for your page or your funnel. Sometimes I break those rules for strategic reasons and get a low score! You can gather email addresses but then you need a different platform to deliver sequences and marketing automations.
Here are some platforms that are really good at email but not the rest of things: Constant Contact, Active Campaign, Mailerlite. And you can learn more about these in my blog post here if you really just want a good email marketing automation tool: https://www.financiallyfreeauthor.com/blog/b/email-platform-2023
Best Funnel Builders
Before I get to my favorites as a professional full-time sales funnel builder, I will mention that Kajabi is very popular and I don't know why.
It seems to be the best known of the all-in-one tools among online coaches. I personally find the user experience terrible in trying to create pages and funnels. I thought it was just me but I've recently found that several other funnel builders are with me, not understanding why it's so popular. It's a bit more expensive than the standard and the customization is limited. This is why there are people who specialize in only Kajabi, I think! And if you want me to build your funnel, I will not work in Kajabi. I do however know a Kajabi specialist that I can recomend to you, so let me know if that's something you want/need!
And of course I have to mention the granddaddy of all-in-one marketing platforms: ClickFunnels.
Clickfunnels was the first business to codify they idea of a funnel and build a platform for it. But over the years they've fallen behind in the functions other all-in-one platforms offered. Now they've come out with ClickFunnels 2.0 which adds in other funnel elements but I don't have any clients in there now that I can poke around and look at it.
The sales page mentions a few interesting things. It says there's a blog, email automations, and a shopping cart coming soon (in my experience most funnel builders are not equipped for an ecommerce product-based business. You can make products but adding things to a shopping cart isn't always an option).
I did see a video about the new features and I wasn't real impressed.
And with the advancement to ClickFunnels 2.0 it now costs a minimum of $147/mo!
The funnel builder I'm going to be recommending for most people costs $47/mo.
There's a million more of them. Hubspot is an all-in-one, but it's pricy. Ontraport is complex and tough to learn but robust. KEAP (InfusionSoft) has customer complaints about having a hard time leaving once you start.
Wix is suprisingly robust depending on the tier you go for and it does a lot more than I realized! I think of it as just a website builder but it actually has a course platform, ecommerce, email automations, and all the funnel tools! It's hard to tell from the website which tier you need for all those functions so if you wanted to go with Wix, I would contact them to ask!
You can probably build a whole funnel in Wordpress with plugins. Wordpress is incredibly versatile and a workhorse. You can't go wrong with a classic. It's base is really website building but people have created an incredibly diverse set of plug-in tools to go with it. The only thing to watch out for with the plugins is that too many could slow down your site speed and slow site speed reduces funnel conversions significantly.
With all that said, let's talk about my two favorites and why I picked one over the other
Kartra
After using a number of funnel builder platforms (including Go High Level), Kartra was the one I fell in love with.
The backend is beautiful and easy to understand. I found it intuitive and simple to use (not everyone feels that way).
At $99/mo for the first tier it's one of the more affordable tools. There's a two week trial for $1 but on the pricing page you can move your mouse towards the top and trigger a pop-up that will offer you a 30 day trial so you really have a chance to see if you like it. (I have no idea if my affiliate link for them will keep working now that I'm leaving!)
It's biggest strength is in tagging and segmentation. The email automation tools are fantastic and you can personalize what people are getting to a very precise degree.
Kartra is one of the few that doesn't split up the "funnel" portion from the "website" portion. I've never really understood why that is so commonly done. The funnel is not a separate entity from your website.
It has so many features that all communicate perfectly between them. Like I could schedule a podcast guest and pull up the survey they filled out when they booked the spot right from my calendar.
This is the backend user interface: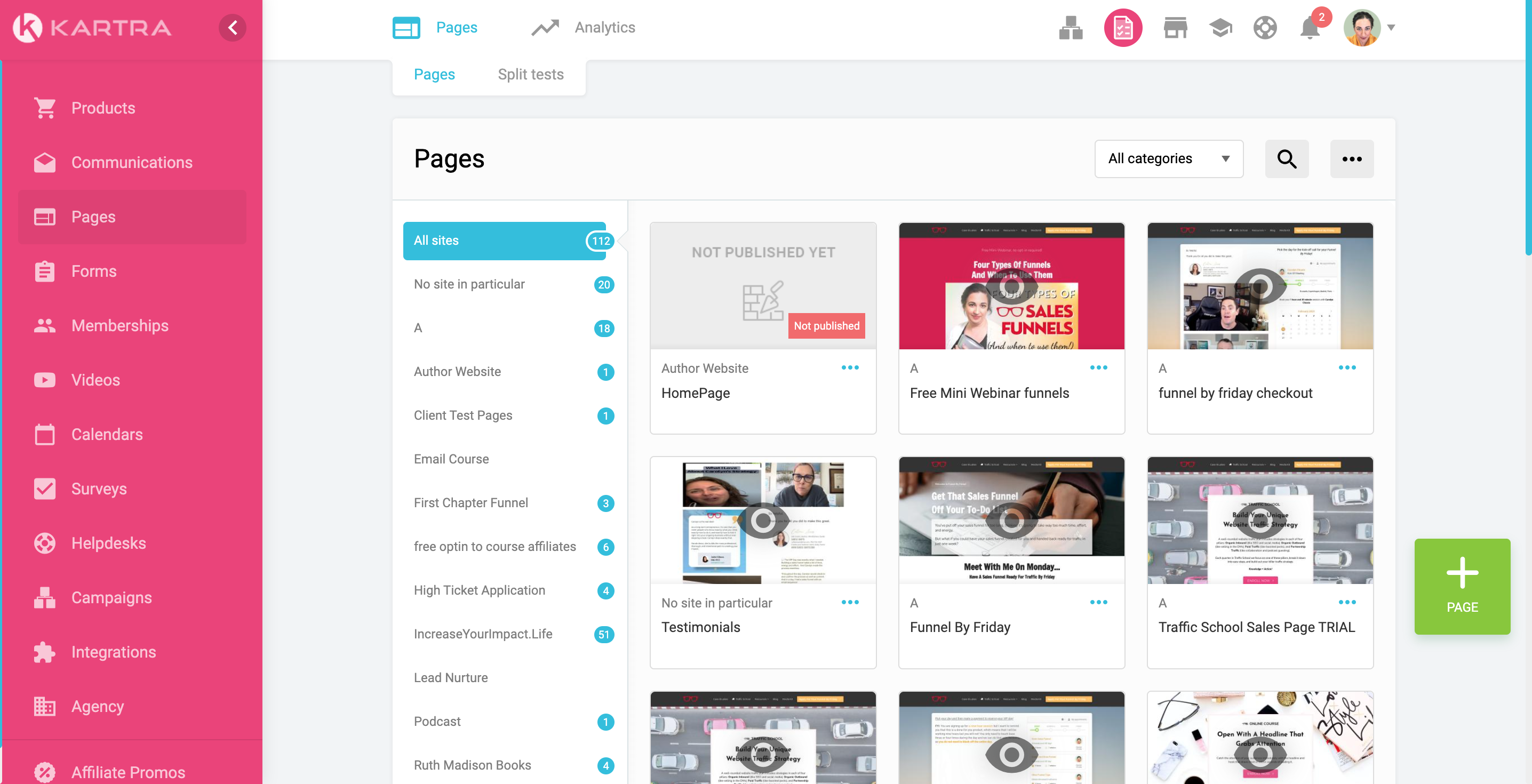 It has a few weaknesses, though.
It doesn't have a native blogging platform so you have to use clunky workarounds or purchase DropInBlog to have a blog on your Kartra site (however Kartra does integrate beautifully with Wordpress if you also have a Wordpress site)
Another weakness is e-commerce. There is no shopping cart and people can't purchase a bunch of different items at once. You can have bump offers and upsells and people can add multiple of the same product to checkout but if you sell different candles, for example, people can't browse and pick out five different candles to add to a shopping cart.
There isn't a social media scheduling tool but I wasn't expecting there to be one. When I started using Kartra I didn't realize that was a thing that some of the platforms had.
Go High Level (Clixlo or Growth Tools)
Let me take a moment to explain why Go High Level has a bunch of other names behind it. GHL is a well-respected and solid all-in-one sales funnel building platform and one of their primary business strategies is private labeling themselves. That means that you can purchase an agency account of GHL and customize for your clients so it powers the backend.
This is a big reason why there are so many options these days. Agency owners can customize a lot and add their own types of tools to it too so there are minor differences but if you log in and see a backend like this, then you've got a GHL white label.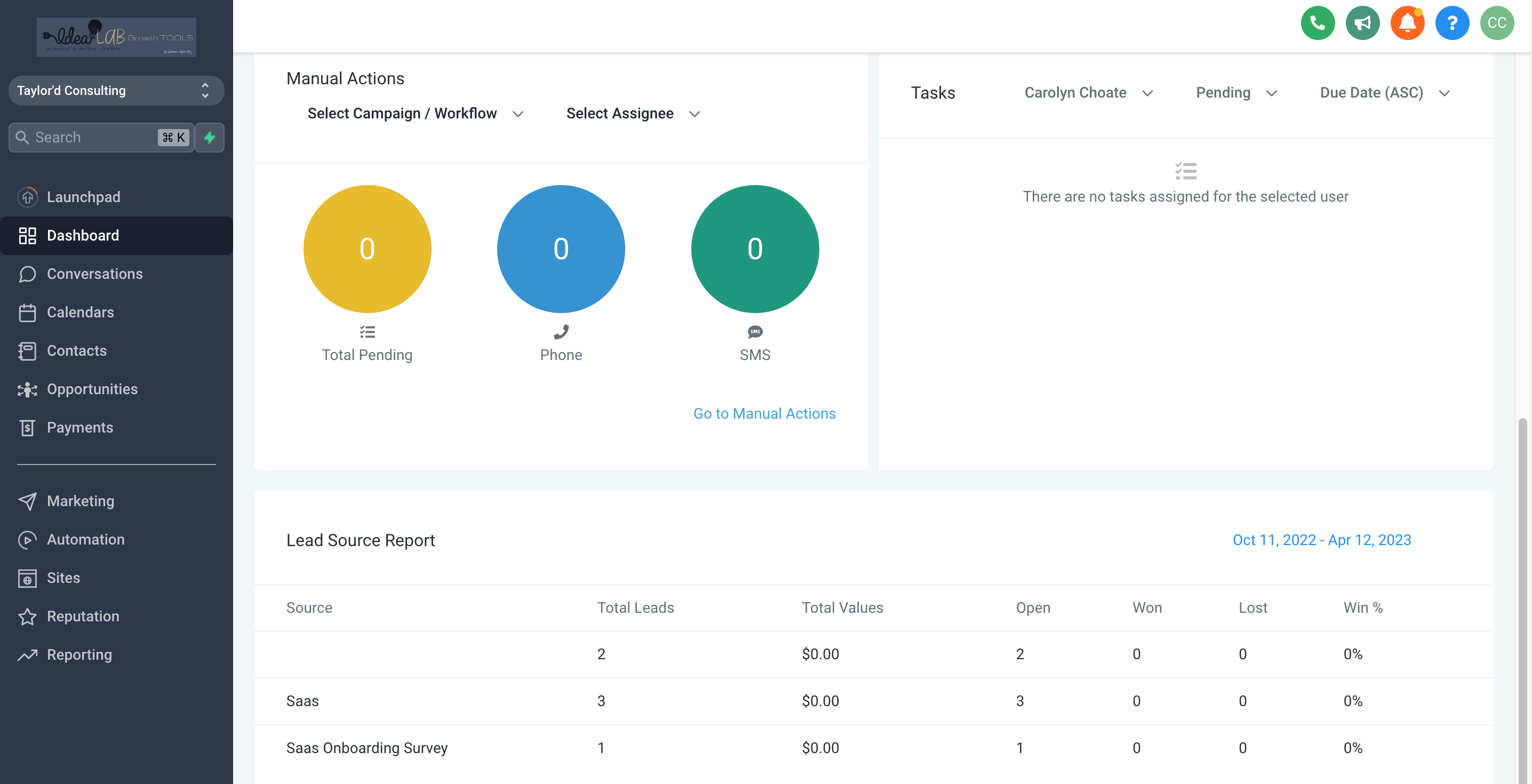 So GHL itself is not as slick and pretty on the backend as Kartra but it has all the functions you could imagine for a sales funnel building tool.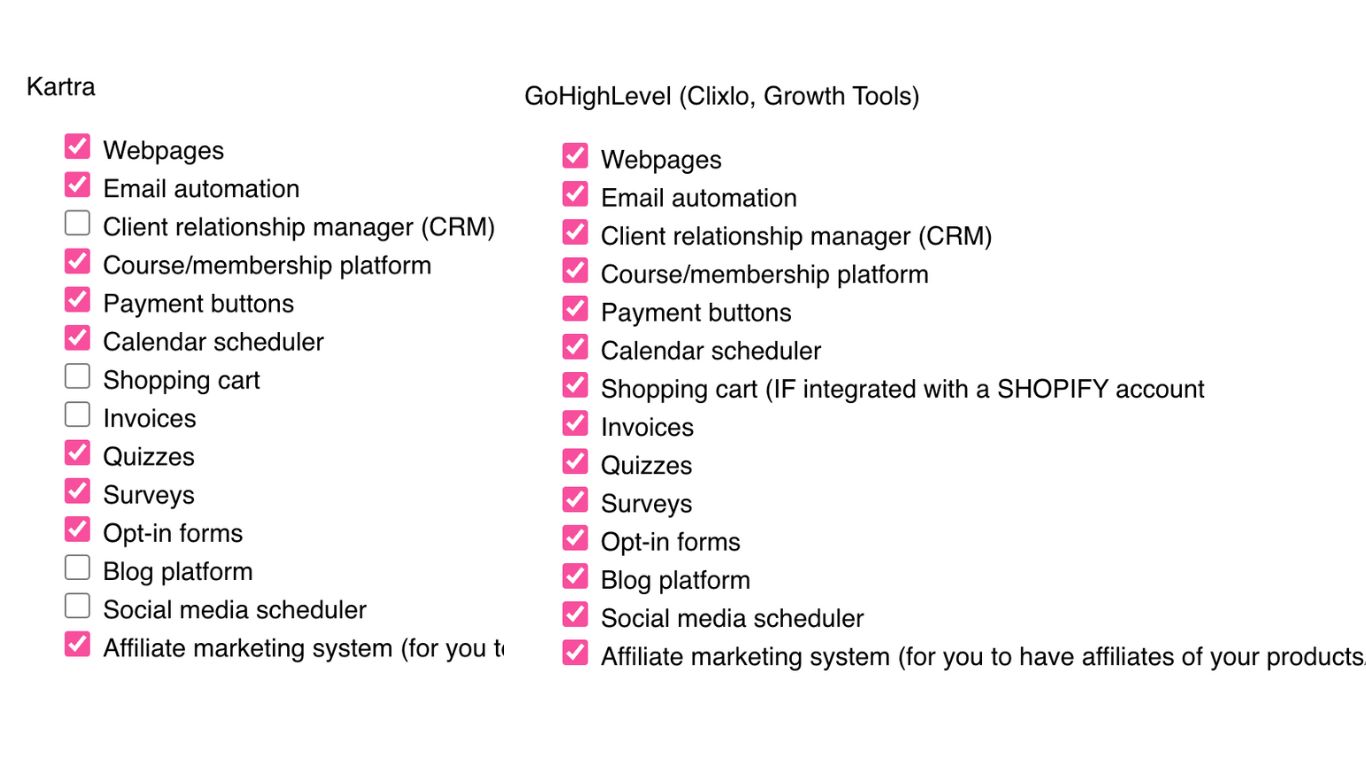 NOTE: In terms of ecommerce, GHL/Clixlo/GrowthTools does have an integration with Shopify but the Shopify account will be an additional $39/mo after a trial period of 3 months for $1. Squarespace or Wix might be a better choice if you are doing a lot of physical products.
But the additional tools are not the main reason that I switched to a GHL-based company. It was because of the pricing.
For the level of Kartra I was at, it was a little over $200/mo and then I found out through a client about one called Clixlo that was offering a lifetime deal. One payment of $497 and you have access to everything for life.
No tiers, no limits.
So that was obviously irrisitable to me. So even though Clixlo itself doesn't have a proven track record and there's some questions about how reliable they will be going into the future, I went for it.
(UPDATE: I no longer recommend Clixlo because they stopped responding to my emails at the end of May. At this time it is early July and I have yet to be able to reach them so that makes me concerned that they may not last)
But I have found a solution even for that!
My friend and amazing business coach, Suzanne Taylor-King purchased the GHL agency account and is now offering Idea Lab Growth Tools for just $47/mo or $997 for lifetime access which is a stellar deal for all the functions it has.
[And you can pay a one-time set up fee of $500 and have me set up your account for you and give you an onboaring tour!]
Idea Lab Growth Tools
This is truly a fantastic deal and even if you only want a few of the functions, it's probably still the best price you're going to get so it's worth getting set up here and you can grow into the other tools if you want to.
I love that it's affordable so you can start with just the bits you need and as you grow and scale you won't need to find a new platform and move everything over!
You can have your website, your funnels, your courses, and sell services. There's calendar booking to replace something like Calendly. There's also pipelines so you can keep track of your leads and where they are in the sales process. It's got a whole CRM system built-in so you can take notes and create tasks around your contacts even if they aren't email subscribers. There's automations that can do just about anything you can imagine.
Here's a look behind the scenes, a little tour of Idea Lab Growth Tools:
I'm going to be creating author website and book funnel templates for this platform.
Weaknesses for GHL are:
The email system is good and solid but doesn't have as many bells and whistles as some others

The affiliate program is pretty new and it doesn't have a portal for affiliates to log in and see their numbers and it's quite bare bones. My mentor who is an affiliate master prefers Systeme.io although most people I know use Thrivecart for affiliates.

In both Kartra and GHL/Clixlo/GrowthTools the "membership" is more like a course than a forum. A lot of people think of membership as like a FB group or a mighty networks for community but these platforms don't have a robust system for comments and community, even though people can comment on course pages. I think a product called MemberPages may have more of that.
Again, go here to get your account in Idea Lab Growth Tools.
Even though these are "all-in-ones" they do need some integrations with other softwares to work correctly. You will need to purchase your custom domain (I usually use Google Domains these days and this should cost around $10-$50/YEAR) You'll want to connect Stripe so you can accept credit cards and payments. You'll probably want to connect Zoom and in some of them your Google Calendar and your social profiles.
When it comes to ease of use, your mileage will vary. Everyone's brain is different and what is intuitive to one person is dense to another. That's probably why Kajabi is very popular but I can't stand it. Despite my experience with all manner of funnel builders, it took me about three hours to get a simple image with opt-in form on one page of Kajabi. I honestly hate it!
Same thing with ShowIt, a website designer. ShowIt specialists rave about how beautiful it is and how easy to use. My very first client switched to it because pretty was top priority for her and it was a nightmare for me to work in.
I adore Kartra and find the way it's set up to be so intuitive and easy but I hear from plenty of people who don't find it that way at all!
Now let's simplify things again. You might not need (or want) a big all-in-one platform. Maybe you just have one function you're looking for! Here are my quick takes for some of the specialty tools:
---
If all you want is:
Best for affiliate? Thrivecart
Best for ecommerce? Shopify with GrowthTools, Squarespace, or Wix
Best for quiz funnels? ScoreApp
Best for community membership? Mighty Networks, Circle, or Heartbeat
---
Everyone wants to convince you that their platform is the best choice and because of that I find some of the tables of pricing and features misleading. I hope this guide will help you decide which platform is the best choice for what you need your tools to do! There's no one right option for every business but you can see why I'll be promoting Growth Tools as the first one for everyone to consider.